Providing services from 2000 year as an operator of several leased helicopters, at the moment we have a large fleet of Ka-32 helicopters (one of the largest operators), Mi-8 of various modifications, ilyushin-76 aircrafts (IL-76) and An-3 aircrafts.
Services effectively performed by our aircrafts :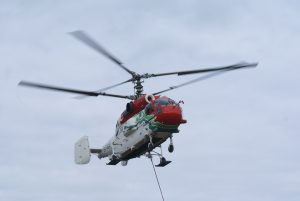 external sling operations
cargo transportation
firefighting operations with bambi buckets
assembly works of complete constructions in the mountains
rescue operations,
offshore operations
skydiving
aviation chemical operations
We operate in various parts of the world: Ukraine, Moldova, Hungary, Turkey, Greece, Indonesia, Portugal and Antarctica.
The Company is certified as an operator capable of performing various forms (including heavy forms) of technical maintenance and routine maintenance on these types of aircraft in accordance with the requirements of Part-145. Air Company possesses a staff of highly qualified flight and technical personnel. We have pilots and engineering offices, flight data monitoring office and also Certified training centers for flight and engineering personnel.